For many months now, my perspective has been changing. Learning to
live fully
, appreciating every good and perfect gift, finding God
even in the pain
. His blessings are everywhere,
one thousand gifts
every day, waiting to be discovered. And my thanks, my notice,
blesses Him
in return.
My eyes have been opening to these gifts, to living life in communion with God, in
eucharisteo
. To be endlessly in a state of thanksgiving, finding the grace given in every moment. It becomes an eager hunt, looking, searching, everywhere.
Rain pouring from rooftops.
Water cold on my tongue.
Husband's kiss.
Sweetness of a cookie.
Lovely flower bursting from the cracks in the sidewalks.
And even in hard times, in darkness, when all hope feels lost, He is there. Our great God has gifts to offer us even in the suffering, through the tears. And I've been finding Him. When I search for Him, for His grace, for reasons to be be thankful, even as I find myself weeping, God shows up. But no. He has always been there. It was me all along who didn't see, who was too consumed by grief, anger. Eucharisteo--endless thanksgiving--opens my eyes to Jesus and the gifts His presence pours out on my life. He becomes salve.
The counting never ends. In hanging clothes on the line, cleaning crumbs from the floor, washing dishes, making beds. The opportunity to worship is just waiting to be discovered.
----
Ann Voskamp's book One Thousand Gifts opened my life to fullness.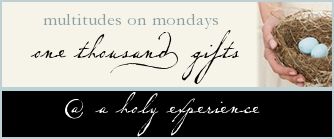 ----