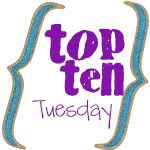 Top Ten Things I do that Evoke Laughter from Others*
*alternately entitled "Top Ten Things I Do That Are Awesome and Help Make Everyone's Lives Easier that I Wish People Would Stop Making Fun of Me For because I Really Don't Appreciate It, but I Know It Will Never Change"
2) Having
lists
and
time tables
for everything. (Yes, everyone in my wedding party called me crazy for the down-to-the-minute schedule, but in the end I wasn't a "bridezilla" and everyone knew where they needed to be. So there!)
3) Creating a "Subway Order Form" to save time and chaos and headache on a trip with 28 teenagers. (Believe me, adult leaders, you WILL thank me.)
4) Always wanting my
pens
back (I will take full responsibility for being made fun of for this. I am a pen snob.)
5)
Rearranging
my house frequently or changing my profile picture frequently, or changing my desktop background frequently. (I guess I value
some
change in my life--
change
that
I
can control, though, evidently.)
6) Using my 4 inch thick unabridged Greek Lexicon as a shelf for a short lamp. I knew that class would come in handy!
8) Having more
file folders
than my husband has sheets of paper.
9) Getting annoyed when no one is listening the directions as I explain the rules of a new game. (But seriously, how else are we supposed to play if you don't shut up and learn!)
10) Being committed to
going to bed
at a decent hour (10 or 11pm) in order to get up at a decent hour. (I've never been the "cool kid" that could--or even
wanted
to stay up at all hours past midnight. I value my sleep and if you've ever been around me when I haven't slept enough, you will value
my
sleep too.)