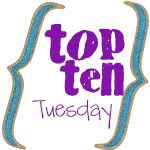 The Top Ten ways I've realized I'm a grown up.
1) Almost all of my friends were
married
within months of our wedding.
2) We have to buy our own
TOILET PAPER
.
3) Ninety Percent of the mail is filled with
bills
.
4) I would rather sit at home and spend a
quiet evening
with my husband than
party it up
with friends.*
*oh wait. I never partied it up. never mind.
5) I
limit my driving time
to
necessities
so as to keep our gasoline bills low.
6) We signed up for a credit card with
reward zone points
and use it for
buying gas
. Only grown ups do that.
7) The congregation voted to put me on the pastor's cabinet with a 40 year old, two 60 year olds, and a 70 year old.
8) The oldest students in our youth group are 5 years
younger
than
my baby sister
. EEEEEK.
9) I can
rent a car
. Not that I ever have. But I can.
10) I can count
at least
15 friends who have recently or are almost ready to give birth to a
new baby*.
*and tonight I get to hold one of them!!!
------