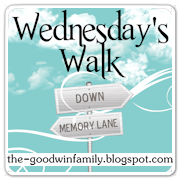 Two years ago at this time, we were getting showered with beautiful gifts and reminded of the wonderful friends and family who support us.
My mom threw a fantastic shower for me at our home church.
My Brittney planned an awesome shower for me at our home-away-from-home church in Spring Arbor.
It was a wonderful month spent preparing for the rest of my life. :)
Kevin and I were married just a week after college graduation.
Walk with me down this beautiful path of blessings, won't you?
::three generations::
Grandma Mary (Dad's mom), my Mom, my Sister-ashley, me, Grams (Mom's mom)
It was a HUGE suprise to have my Grams there!
She came up from Florida for the celebration!!
::Grams helped me clip the stitches to my "something old"::
It was a baby bonnet I wore home from the hospital.
It came with a lovely little poem and instructions to transform it back
to a hanky to be carried on my wedding day.
::notice those little spices in the midst of the gifts?::
we asked our guests to each bring their favorite spice to help start my spice cabinet.
Best. idea. ever.
I use many of them every day and LOVED having such a well-rounded spice assortment
(I think I only had one duplicate!)
::Britt was a dutiful co-maid-of-honor::
helping keep track of gifts and givers.
WOW! look at all those presents!
::And now on to the SAU shower::
Brittney planned an ice cream bar (ice cream not shown) with ALL the toppings!
::mingling::
::my moms and me::
::Brittney leading us in some fun games::
one of which involved me answering questions and
if I didn't match Kevin's answer I had to shove a huge piece of bubblegum in my mouth.
::Betsy's face says it all--the theme of this shower::
::ooooh, candles!::
Thank you, friends and family,
for helping prepare us for making our own home.
Without you, we wouldn't have known where to begin.
We love you!