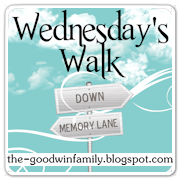 Well, it's only appropriate that today, just a week later, I share my beautiful memories of our wedding day.
Because, two years ago, that's exactly when it happened.
We graduated Saturday, May 17th, 2008.
We were married Saturday, May 24th, 2008.
But we had dated since November 28th, 2004.
A near record long relationship for aChristian college like SAU.
Where the themes are "A Ring by Spring"
and "SAU is like a shoe factory. Make up soles/souls. Send them out in pairs."
The pressure to get engaged and married is quite heavy in this environment.
As soon as the public thinks a good match has been made they start in on the engagement.
Sheesh, people, take a chill pill.
But I'm so glad we waited.
We will never have those four years of college life and friendships again.
But now, as husband and wife, we have the rest of our lives to spend together.
Side by side.
A match only God could make.
---
We took photos in my parents' beautiful backyard
as well as on the shores of Lake Erie.
It was a beautiful day.
Weather was perfect.
Spirits were high.
Stress was low.
LOVE was bursting from our seams.
::moi. a bride. ready to marry my groom::
:::Kevin's family::
Brian. Kevin. Mom (Linda). Dad (Gordon).
::Melanie's Family::
Ashley. Mel. Dad (Dan). Mom (Karen).
::mother and son::
::father and daughter::
::the boys. always playing frisbee::
DON'T RUIN YOUR SUITS!!!
::the lovely ladies::
Britt. Ash. Mel. Maria. Magan. Brooke.
::the boys::
::my groom was SO ready to be married::
::walking down the aisle to a dramatic piano rendition of "Be Thou My Vision::
::my dad pronounced a blessing and prayer over us::
::wiping away his dripping tear::
::our good friends, Ephram and Kay, lead the congregation in singing
::lighting our unity candles::
::THE Kiss::
::our wonderful wedding party::
::our cake emulating our theme--simple elegance::
::we are totally unconventional::
::at the end of our reception, when 99% of the guests were gone,
So we grabbed forks.
and dug in.
::and they lived happily every after::
Marriage is not always sunshine and roses.
But we knew that going in.
And we spent 9 months in pre-marital counseling with Dr. Brewer.
It was so great.
It's even better than we imagined.
And our goal is to keep our focus on Jesus.
And give HIM our hopes and dreams.
Our resources and our hearts.
Complete control.