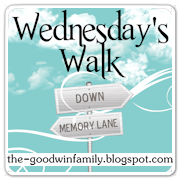 Called "Wednesday's Walk," it's a great opportunity to share a memory that you call yours alone.
Anything.
Anything at all.
I have decided to start out with our love story. In pictures.
Kevin and Melanie [circa 2004]::
He was my first.
First boyfriend.
First kiss.
First true love.
After we shared our first kiss my floor mates lovingly plastered my door with the announcement.
I came back squealing of joy that evening.
And they couldn't help but share in my excitement.
(See all the lovely red lips??)
Us. At a college ice skating event.
We held hands.
He pulled me around as I grasped his sweatshirt.
"Ready....skate!"
We've always laughed together.
A lot.
This is us hanging out in my dorm room sophomore year, 2005.
The summer of 2006 I spent my time traveling in a 15 passenger van.
With 6 guys and one of my best girl friends, Brooke.
We comprised SAU's Wellspring.
A team of students commissioned to regional Christian camps to serve and lead students in worship.
Meanwhile, Kevin was on Long Island.
At the State University of New York working on a summer chemistry research program.
They were long. And hard.
Midway through the summer, my team traveled to Canada.
And my best friend, Britt, and her family came to visit me for the day.
I cried when I saw her.
It was a moment of normalcy and comfort.
And in her arms was this enormous bouquet of my special mix of flowers.
Especially sent from Kevin.
White Alstromeria and Red Roses.
I toted that bouquet around with me for the next four weeks.
The gift of my love got me through the summer.
Close to the end of that summer of Wellspring, Kevin and his family came to hear one of our concerts.
Brittney loves taking pictures.
And for two years we were her most popular subjects.
Canadian Thanksgiving 2006.
Our third year spending the holiday with Britt's family.
We took time for a great photo shoot in her backyard.
Yes.
Proof.
That I love him.
I am a Buckeye through and through.
Kevin, on the other hand, bleeds maze and blue.
For his birthday in 2006 I secretly bought us a pair of tickets to a University of Michigan football game.
He loves me too.
and he called me his Little Buckeye.
January 2007 we spent three weeks traveling through Jamaica with 14 other SAU students and 2 team leaders.
All a part of our required Cross Cultural program.
It was fan-friggin-tastic (as my dear husband would say).
Those weeks were transformational on every level.
Spiritual.
Social.
Global.
Years after many of our classmates predicted our engagement, the day came.
August 21st, 2007.
The Perfect Proposal.
October 2007, my handsome husband to be was elected to SAU's Homecoming Court.
He even honored my request that we attend the dance.
But this was still a big deal for him.
NOT an "organized dance" guy at. all.
Gazing longingly.
Engagement photo session with the lovely Karina.
Britt came along to help with cosmetics.
And we managed to get pulled over for a speeding ticket in the city park.
Going 25 in a 20mph zone.
Our Wedding.
May 24, 2008.
The perfect ceremony at my home church.
With all the friends and family from every stage of my life.
Officiated by our spiritual and relational mentor, Dr. Brewer.
Prayer of blessing given by my Daddy.
The perfect piano accompaniment by my beloved piano and voice teacher, Brenda.
All of it was sacred. intimate. meaningful.
I wouldn't change a thing.
Photos on the shores of Lake Erie.
We honeymooned at Hocking Hills State Park.
In an amazing little cabin in the woods.
Cricket's Cove it was called.
It was perfect.
I can't wait to go back some day.
For our one year anniversary in 2009, we camped out at Ludington State Park on the shores of Lake Michigan.
White sands.
Wooded forests.
Sweatshirts.
Long thermal underwear.
A deflated air mattress.
A six hour powerful thunderstorm.
A tour of downtown and a car show.
It was all crazy.
But it was just what we needed.
What memories will be made this year?
And in the next five?
I can't wait to find out.
But meantime, I'm going to look for God's hand in each moment, every occurrence.