There's been a lot of thankfulness happening on my blog lately. But don't think that's a bad thing, do you? :) Today, at the close of Thanksgiving Day 2011, I join Rachel @ Finding Joy in her
ABCs of Thanks
.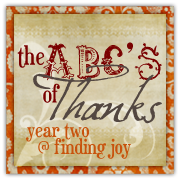 A - Ashley. my favorite sister.
B - blogging.
C - chocolate, in most all its variations.
D - Daddio. love him.
E - Elizabeth. a faithful friend for every year of my life.
F - Father-in-law, the best I could ask for.
G - grandparents. I mean, seriously, both my Grams and all four of my grandparents-in-law rock.
H - holding hand.
I - internet connections.
J - Jesus, my Lord and Savior.
K - Kevin, the one who holds my heart.
L - lattes. I really should drink more of those.

M - my name. I really love my name.

N - notes, handwritten with love.
O - oatmeal. my favorite breakfast.
P - piano students.
Q - Q's awesome points in Scrabble.
R - running.
S - Sheryl, the friend my soul needed.
T - time to live, to be together, to laugh, to minister.
U -
Under Armour--my first UA running shirt ever. In
Pink
!
V - vegetables. not kidding.
W - water for drinking.
X - x chromosomes that make me the girl that I am.
Y - yarn, for crocheting.
Z - zeal for the Lord.